Installing proper lighting in your home might seem like the easiest thing in the world, but it's actually far from that. A decision on how and where to install your lighting comes after a long process of inspecting the amount of natural light in your home, estimating your needs, thinking about your aesthetic desires and ultimately consulting your home improvement budget for the year. If you too want to illuminate every corner of your home adequately, but still don't know how, here are a few quick tips that will guide you through the process.
Open your windows
The first thing you need to do when setting up your lighting is determining how much natural light your living space receives during the day and what you can do with it. While the amount and versatility of different lighting solutions available on the market at the moment is amazing, natural light is still more beneficial to your mental and physical health, so you should open your windows and insist on it as much as possible. However, that might be impossible for people living in certain parts of the world or those sensitive to natural light, so they need to explore alternative options as well.
Ambient lighting
If adjusted correctly, ambient lighting will be the closest to natural lighting you'll get – all you need to do is find the perfect position for it in every room of your home and pick the right lightbulbs. When doing so, be moderate and instead of opting for the highest wattage and voltage, pick the bulbs that provide soothing light and a welcoming atmosphere. Take the room's size in consideration as well, since bigger rooms require more light and, consequently, more ceiling fixtures.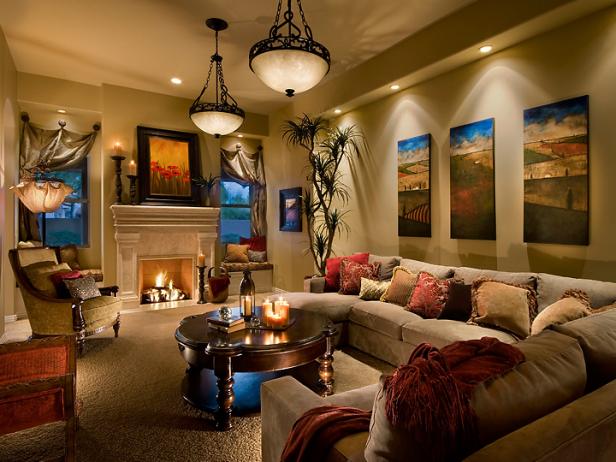 Custom lighting
While everyone appreciates a nice chandelier, you're going to love custom lighting even more. Whether you want to go DIY or find a few unusual lamps online, you can equip your home with one-of-a-kind lighting solution easier than you think, no matter where you live and how much natural light you have. People in Australia, for instance, just love exploring the offer in their favorite lighting stores in Sydney and discovering unusual lamps, fixtures, bulbs, chandeliers and setups they didn't even know existed.
Living room and bedroom lighting
Being two of the busiest rooms in every home, the living room and bedroom require special attention when it comes to lighting. Since the former is the space where you relax, sleep and recuperate after a long day, your bedroom lighting needs to be subtle, discreet and help you fall asleep, especially if you suffer from insomnia. Also, you should think about adding some heavy curtains that will make the atmosphere even more calming. Living rooms, on the other hand, are the spaces where you entertain guests and spend time with your family, so they need to be illuminated more than the bedroom. Nevertheless, make sure your living room lighting is adjustable so you can tone it down during family movie nights.

Incorporate the furniture
This isn't something most people pay attention to, but it's quite important – picking your furniture so that it brings out the most of your lighting setup is another way to introduce an amazing change into your living space. Furniture covered in light materials and colors can brighten up your space, so you're to minimize your light, and vice versa: dark- and black-colored furniture should be combined with lots of light, unless you want to feel like you're living in a dungeon. If you manage to do this properly and accentuate the vital pieces of furniture with your lighting solutions, your home will look like a furniture showroom, and that's something we're all striving for.
With so many lighting options out there, you have to choose carefully and think about what you're doing. Wrong ideas can make your entire home seem uninviting, so try out different ideas until you've found the one that suits you the most.